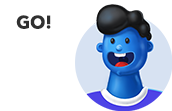 Feel quite confident and stable on the road with Supercars custom cursors collection!
Registration certificate in your pocket, keys on hand, and let's go! Moreover, without disassembling the road and not paying attention to the bumps or holes. How can you stay in front of the car cursor collection?
In supercars free mouse cursors there are both retro car models and modern sports versions.
Mercedes 300-SL was presented in February 1954 at the New York Auto Show. The 300-SL is best known for its expressive "seagull wing" doors. This is the first four-stroke petrol car in history to be equipped with a fuel injection system. Enjoy Benz in mouse cursor!
Nissan Skyline R 34 Gt R is made with great emphasis on sportiness and compliance with new environmental standards. The legendary car appeared in 1998 with a modified chassis and other updates. Find it in muscle car.
Fast off-road driving is the revelation of the Ford Raptor SVT free cursor. It is not a problem to teach a pickup to drive fast on asphalt, it is not a problem to...