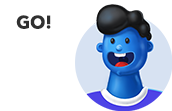 The legendary Mickey Mouse is probably the most famous cartoon character on the planet throughout its history. The "father" of Mickey Mouse, as we know, is the great Walt Disney.  
The mouse became a symbol of The Walt Disney Company and American pop culture as a whole. And his calling card was the white gloves, which, by the way, appeared not at once, but a year after his debut.
Mickey has a girlfriend named Minnie, and the faithful dog – Pluto. He also frequently appears in the company of his friends Donald and Goofy.
Mickey Mouse has tirelessly conquered movie and television screens. In his nearly century-long history, he has become a favorite not only of ordinary people around the world, but also of stars, from models and designers to pop singers and punk rockers.
We also couldn't pass up this famous character and create a collection of Mickey Mouse cursors with his famous gloves! Which cursor will you choose?
Mickey Mouse's ears have long been a classic Disney "tribute". Surprisingly, this...
Mickey Mouse Hands Cursors