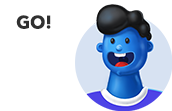 This is the time of the extraordinary, cute and funny, dark and light at the same time. Welcome to the world of Adventure Time!
To create the cartoon cursor collection, we were inspired by the desire to travel through the post-apocalyptic world of Ooo, magic kingdoms and fun places. Witty banter and funny jokes we embodied in adventure time cursors. The beautiful graphics of free cursors will let you enjoy the stories of your favorite characters.
Adventure Time is an animated series about two friends – the boy Finn and his dog Jake. They live on Earth that has survived a nuclear war. True, now the post-apocalyptic world is called Ooo, and mutants inhabit it.
Meet Finn. He is practically the only person in the post-apocalyptic space of the planet Earth. The golden sword of battle is Finn's weapon of choice throughout most of seasons one and two. Find the sword of battle in Adventure Time Finn's Sword custom cursor.
Jake is a "magic dog" with a unique set of abilities that allow him to control the shape and size...